A 21st Century Vision
Eve Muirhead,
Olympic Curler
"I believe that PH2O is a really exciting opportunity that will help us invest in the next generation of athletes."
What is PH2O?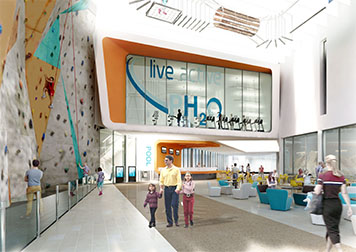 PH2O is our vision for delivering a sustainable hub of sports, leisure play and physical activities services that would include swim, gym, ice and other popular favourites. As well as this we're looking at an enhanced offering in the form of outdoor climbing walls, high wire and adventure play.
By creating an iconic public space, a unique experience and a dynamic mix of more than twenty sports and leisure opportunities in the heart of the city of Perth we will deliver not only health, social and recreational benefits but also economic growth, sustainable facilities and tourism potential.

Our Vision: In Brief
Our vision requires an investment of £25 million which will deliver:
An unrivalled indoor / outdoor leisure space with swim, gym, ice, sports, leisure, play and adventure
An iconic flagship for Perth City Centre and the wider Perth and Kinross Area
Health, Social, Sporting and Recreational benefits for the residents and visitors of Perth
Direct economic growth for the sports and leisure market in Perth and significant and measurable economic impact for food, drink and other leisure providers
Accessible, quality, sports and leisure facilities at an affordable, value for money price point for all – we estimate an additional 100,000 visits per year

"This is a real opportunity, not just to replace ageing facilities and reduce costs, but to deliver a flagship project which Perth can be truly proud of. "
Gary Watson, LAL Director of Operational Services